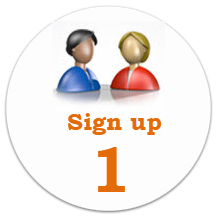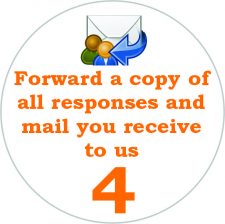 Step 1: Initial Credit Report and consultation
After signing up, our Welcome Kit will be issued to you by mail. Please fill out all documents and return signed items to us. We will then contact you for our first initial credit education consultation. During this call we will order all 3 bureaus Credit Reports and import all negative items into our database.
Step 2: We go to work
Once we receive your credit report login we will start the credit repair process, drawing upon our vast arsenal of credit report repair strategies to challenge questionable items directly with the credit bureaus, creditors and collection agencies. Depending on the number of questionable items on your credit reports, this step will be repeated for each subsequent cycle. While we are disputing your items you should receive updated reports from the credit bureaus, and responses from the creditors and collection agencies.  It is important to forward each updated report to us so we can track which questionable items were deleted.
Step 3: You get the results
The credit bureaus by law have 30 days to investigate your dispute. After that, they must inform you of their results and send you a copy of your updated report. It usually takes 60 days from the day we send a dispute to the day you receive an updated report.
Step 4: Forward us a copy of all your responses
As each round of responses and results are received by you in the USPS mail, we will need you to make a copy of each response (all pages) and forward a copy to us.
Step 5: We process your responses as we receive them
With the information we receive from you, we will update your account and send you a new email with your progress updates and update your client portal.
Step 6: We will mail your next round of disputes
Once we have updated your account and client portal, we will mail your next round of disputes via USPS mail to the appropriate creditor, credit bureau or collection agency.
Pricing
We at Don't Be Left In The Dark Educational Services will work to restoring your credit shoulder to shoulder with you. Once you have signed up, we start working for you IMMEDIATELY!
Why Credit Matters
Credit can affect everything from home loans, auto loans, rental agreements, insurance, social status, and even employment. Bad credit means higher rates on just about everything related to borrowing money. Making a plan to try to improve you credit will help save you money.
Credit Facts
There are five factors in determining your credit score:
Payment History
Amounts Owed
Length of Credit History
Taking on More Debt
Types of Credit in Use
Your Rights as A Consumer
Did you know that the FTC has put in regulations to protect consumers?
Our Guarantee
We guarantee to submit disputes on your behalf to the credit bureaus, original creditors and collection agencies for requesting removal of erroneous, incomplete, outdated, misrepresented or unverifiable information from the credit reports.
Possible to Remove
Late Payments
Collections
Charge Offs
Bankruptcies
Judgments
Tax Liens
Repossessions
Inquires
Identity Theft
Fraud
Incorrect
Foreclosures
Garnishments
Closed Accounts
Negative Settlements